Dermactin Age Defying Eye Perfector 90 Seconds
Hot
July 29, 2016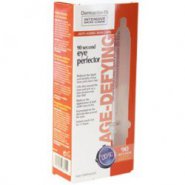 Product Info
Where to Buy
R295.00 at Dis-Chem stores
Younger looking eyes are just 90 seconds away with this instant, 12-hour eye line eraser! The 90 Second Eye Perfector reduces the depth and severity of eye lines while it lifts skin around the eyes and acts as a non-invasive eye line filler.
User reviews
Disappointing
I wanted to love this so much! The packaging is a dream. Shaped like an X-Large syringe, the product is dispensed by pushing from the bottom up so no product is wasted and you are able to get every drop of what you pay for.

To start on a positive, this product does tighten the skin. Depending on where you put it, you will feel a tightening sensation. HOWEVER, this is not noticeable and it doesn't last. This product is also tinted and for my fair skin it was too dark to use around the eye area (I usually like to highlight this area). It also has quite a sticky texture, which I found irritating. Even after the product sunk into my skin I still felt it interfered with my makeup application, making concealer look heavy and patchy.

This may simply be the wrong product for me personally but I wouldn't recommend it or repurchase.

Product Recommendation
Would you recommend this product to someone else?
No
Would you repurchase this product?
No
Was this review helpful to you?