Clique Moisture Surge Overnight Mask
Hot
December 04, 2015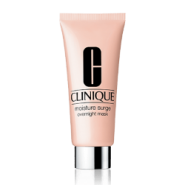 Product Info
Where to Buy:
Clinique counters; R460.00 for 100ml.
A creamy night mask that helps skin with deep replenished lost moisture. It soothes and nourishes the skin and helps hold in moisture, all night long. It is oil free and you wake up to touch soft and glowing skin.
User reviews
younger looking skin
I never liked any of the leave on masks I had tried in the past, so I was skeptical to begin.

I was delighted that after use, each morning my skin felt softer and plumper and looked more dewy. The mask has a slight smell of alcohol. It spreads easily and absorbs easily. I did not find that it left a residue.

This is an easy to use un-offensive smelling mask that really leaves your skin more hydrated, soft and plumper after use
Product Recommendation
Would you recommend this product to someone else?
Yes
Would you repurchase this product?
Yes
Was this review helpful to you?