Body Shop - Warming Mineral Mask
Hot
April 15, 2014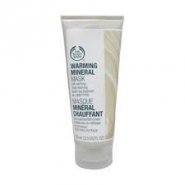 Product Info
Where to Buy
Body Shop Stores -R120
A self heating mineral mask
User reviews
Warming mineral mask by The Body Shop
Best mask I used this far ... Heats up when applied and very effective it's worth buying
Product Recommendation
Would you recommend this product to someone else?
Yes
Would you repurchase this product?
Yes
TBS- Warming Mineral Mask
I tried this for the first time last week, and I love it! It says apply to wet skin, which I did, but I think it is important to apply with dry hands, or else the product gets stuck to your hands and won't easily be transferred to your face. As soon as you apply the mask you feel a warm sensation, it doesn't get hot, but it definitely is warm. It is quite a thick mask, and it was a bit hard to squeeze out the tube, I would have preferred it in a tub. Now, for the results. As soon as I removed the mask my skin looked clearer, smoother, and just all round better.The warmth of the mask helps open pores for deeper cleansing, and I really felt this mask lived up to its claims. It is for all skin types, and I suggest you all give it a try!
Body Shop - Warming Mineral Mask
Now ladies and gents let me break it down to you. This is the face mask to have, I am all for DIY natural masks (egg, avo and all that) this face mask tops any face product that I have ever used! Yes it's that fantastic, and not only because it was effective enough to completely heal a boil I had !

The de-tails
This is a very thick mask, of which the main ingredients are Kaolin Clay – which helps control shine, deeply cleanses and draws out impurities from the skin.
Wild-Harvested Seaweed- Seaweed if famous for its conditioning and hydrating nature
Zeoline – this is where the heat comes from, when it comes into contact this ingredient warms up, helping to draw impurities from deep within the skin.

How to use
Recommended use is once or twice a week, on wet skin, after washing and toning your skin. (For my special issue mentioned above, I used it every day in my morning shower, from Tuesday, come Thursday my special issue had reduced to the size of a pimple and was no longer painful)

What my sister thought
So I usually get my sister to test things out as well, just to see her reaction. Well her first was, the mask is so think you practically can't waste the mask because it comes out in a bit of a hard squeeze from the bottle. (yeay for me) and she (poor thing) rinsed off the mask with a wash basin of standing water, needless to say her face was left white and she was bothered by this so make sure to rinse it with running water, and follow up with a little moisturizer.

My first reaction
As I put it on my skin I just wanted to keep layering it, I absolutely love it (I want to see if I can really stick to not keep layering it, or using more than twice a week) because the warmth stayed a bit just after you apply it and then fades off into a tingle, I just am addicted to that heat! Can you say Spa, ahh!

Availability
I did not find it at the Clicks body shop section but it is available at body shop stores at R120 (the bottle will probably last all year) and my boil is gone! Can we just take a moment to acknowledge the power of this mask!