Pond's Flawless Radiance Anti Spot Even Tone Serum
Hot
November 01, 2012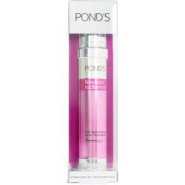 If you experience problems with dark spots or blemishes, then you have found your cure! Being a skin care addict I love trying new products, but this my friends is the one.  The Matrix has its competition cut out for it! This Flawless Radiance product creates a whole new skin!
Soft and smooth with a fantastic perfume aroma, this Anti Spot Even Tone Serum had me reeling with how amazing it made my skin texture. Adaptable to all skin types, the serum is best used twice a day. Simply put, this product evens out your skin tone and prevents further discoloration.
It works deep within the skin to fade dark spots and blemishes. While working on the blemishes that already exists, the serum offers double protection. It protects your skin from further discoloration and works from within the skin to the surface. The result is an instantly softer and smoother skin which literally glows and gives you the confidence you need to tackle the day. It freshens and whitens the dark spots by using a formula that is new to the Flawless Radiance range, GenActiv. This is the ingredient that has targeted a new demographic of women. Hitting the shelves with a vengeance and leaving just as quickly as it cam in, the Ponds Flawless Radiance range is definitely something to share with friends and family...although, just the ones you like!
I found the product to be the "must have" of the summer season. After the summer sun has taken its toll on your skin, the perfect weapon of defense in my opinion is the Pond's Flawless Radiance Anti Spot Tone Serum. It just offers that measure of velvety softness that you need when your skin starts discoloring and tightening. The sun creates unwanted blemishes and dark spots that we often don't see until they start to darken. Lightening up the skin tone is the perfect solution for the summer sun. 
Use the product after cleansing and before applying your day cream. You can also use it in the evenings before you apply your night cream. Either or both ways it doesn't interfere with your daily regime and it adapts to all skin types! There is no need to worry whether or not it will make your skin oily or dry it out. If you enjoy those kinds of miracle creams that instantly soften and smooth the skin then add this to your check list! It will simply become your skins BFF.
Experience the feeling of a softer, lightened and unblemished skin. Enjoy the new Flawless Radiance Anti Spot Even Tone Serum from Pond's.