Environ Skin Care Original Firming Eye Gel
Hot
March 15, 2017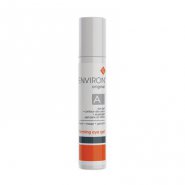 Product Info
Where to Buy
See link below to find a stockist near you

Price:
RRSP 240.00 - 10ml

Visit environskincare.com to find a stockist near you.

Environ is a globally recognised and loved Professional Skin Care brand that is built on science, beauty and care. We believe that skin has a life and that vitamin A is the "oxygen" it needs to look beautiful and healthy for life.
Environ Skin Care Original Firming Eye Gel contains vitamin A, C and E. Ingredients include rosemary leaf extract and sesaflash. The gel moisturises and tightens the sensitive skin around the eye. Reduces the visible signs of ageing by softening the appearance of fine lines and hydrates the eye area.