Double Serum - Clarins
Hot
May 31, 2013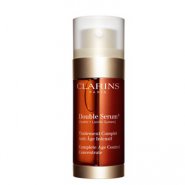 Product Info
Where to Buy
Clarins counters
The complete Intensive Anti-Aging Treatment. More than just a serum, this is the only intensive anti-ageing treatment rich in 20 plant extracts that boosts the skin's vital functions. A unique formula that can be used in two ways for a visibly youthful look.

Available now on counters

Beauty Benefits
This product is targeted at all women beginning at age 25 who are looking for a very complete product to address their anti-ageing concerns, regardless of their age, skin type or tone.

Skin Type: Normal, Dry, Combination, Oily
Texture: Fluid
The skin is firmer and wrinkles appear smoother
The complexion is even and regains its glow
Pores are less visible
Dermatologically tested, non-comedogenic
Efficacy

90% of women agree that Double Serum is more effective than their regular serum*
87% found that Double Serum boosted the efficacy of their cream
* 4 week satisfaction tests: *126 women, **95 women

Application
Dispense 2 to 3 pumps of product
Mix it and warm it in the palms of the hands then place hands over the face and neck using the entire surface of the hand
Gently press down working from the center of the face outwards beginning with the cheeks then the forehead and neck. This helps prevent tissue displacement, enhance drainage and preserve skin's youthful qualities
Active ingredients
Katafray extract and Hyaluronic Acid complex help to restore the skin's water reserves for comfort and softness
Kiwi extract boosts the skin's nutrition for suppleness
Pistachio extract help to reinforce skin's barrier function for protection
Extract of Maritime Pine and Organic Musk Rose oil help oxygenate the skin for increased radiance
Extract of Organic Green Banana, Lemon Thyme and Bocoa help visibly reduce wrinkles and increase firmness
Size: 30ml
User reviews
An Incredible Overnight Boost
The numbers do not lie on this serum, therefore I won't ramble on too much!

I have found the Double Serum to be THE MOST EFFECTIVE SERUM I HAVE EVER USED. It's super-light, gel-like texture applied very well on my oily skin. After dispensing 2 pumps, and then lightly applying is using the Clarins Draining Pressure Points Method for the face & neck, my skin instantly felt smoother and oil-free.

After a few weeks of daily use, I couldn't believe what was happening to my skin: it looked as plump as a baby's bottom! My laugh lines were almost non-existent and my sensitive eye area began looking less heavy, as I sometimes wear reading glasses. I had plump cheeks for days, and my natural skin tone was resurfacing after many sunny Durban weekends spent surfing.

Coupled with the Multi-Active Youth Recovery Night Cream, and a good SPF, my skin needs nothing more. I think I'm on my 5th bottle now!
Product Recommendation
Would you recommend this product to someone else?
Yes
Would you repurchase this product?
Yes
Clarins Double Serum
i bought this serum for R695 and its one of the best buys ever. im absolutely in love with this serum. i have been using the HydraQuench Serum mostly in winter as i struggle with dry and dull skin. this serum feels so much nicer to apply and use. i use two pumps every two nights as now during hot summer nights my skin sometimes feels to oily when i wake up. the serum smells nice and it feels very luxurious on your skin. i apply it and wait a few minutes and then follow with Multi Active Night Cream or sometimes if i have have dull and pigmented areas i follow with Bright Plus Night Cream. my skin feels great when i wake up. i dont use this in the mornings but i would recommend it to anyone who struggles with very dry skin to use morning and night.
Double Serum - Clarins
I subscribe to the Clarins email newsletter and follow the page on Facebook so when they announced this new serum I was quite intrigued.

Then as luck would have it, I received this from Beauty Bulletin. Needless to say I was very excited. I was actually in the market for a good serum so this came at a very good time.

First impressions: The packaging is very much in keeping with the Clarins brand and the rest of their products. The bottle contains two serums which are both dispensed in one pump.

I used 2-3 pumps to cover my entire face. I could immediately feel my skin was smoother and radiant. For the first 2 weeks I used this twice a day but then realised I'd already used half the bottle so now I only use it the the evenings.

Although I don't have any early signs of aging ( think its the good genes), I'm all about preventative measures. This serum is perfect for that. I now know that my skin is being protected and its helping with all those other skin conditions I suffer from like enlarged pores.

I can definitely see the difference with this serum and bonus its for all skin types.