Clinique Repairwear Laser Focus
Hot
April 17, 2015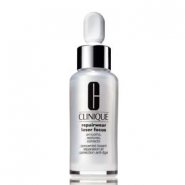 Product Info
Where to Buy:
R 680 at Clinique counters or www.clinique.co.za
Restores, smooths and corrects skin. Refines skins texture and visibly reduces wrinkles and imperfections.  
User reviews
Rejuvenated skin
Another sample I received and I must say that for a sample sized product it quite a huge amount. Ok so about this product : it's consistency is almost watery yet feels absolutely luxurious to the touch. Because it's more on the water side my skin gets all the hydration it craves. We all know the key to good skin is hydration and this product is loaded with it.

After day 3 of using this I found that the fine lines on my face appear less visible and my the enlarged pores around either side of my nose seem less pronounced. My skin feels more supple and radiant. This is definitely something to invest in.
Product Recommendation
Would you recommend this product to someone else?
Yes
Would you repurchase this product?
Yes

Was this review helpful to you?
clarity n soft focus skin
I bought this in combination with my foundation at cliniques last promo and scored a gorgeous 7 piece gift which included mini makeup n skincare treats.
My bottles almost finish but this product was so worth it i would definitely repurchase.
On my late thirties skin by day 3 there was improved clarity;lines appeared blurred;my skin discolourations less visible and my pores finer and refined.
By 2 weeks i looked refreshed and less fatigued.
And by a month my dry combination skin was smooth and appeared air brushed even when i was bare faced.
The texture is gel like like and absorbs cleanly.
Its a brilliant product.
Was this review helpful to you?
Clinique Repairwear laser focus Serum
This was an expensive buy but oh so very beyond every cent!! Every tiny drop of this is precious! I've only been using it for two days and this morning I could already see a difference in the appearance of my wrinkles and large pores!!! Like magic this stuff hehe and the 3 tiny drops in use go a long way and feels fantastic smooth on skin like it instantly makes a difference. Love clinique! X
Was this review helpful to you?