Bobbi Brown Extra Eye Repair Cream
Hot
July 31, 2013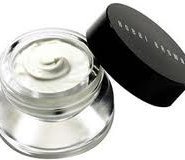 Product Info
Where to Buy
Edgars Bobbi Brown Store
My under eye area can be quite puffy and I sometimes have dark circles. It's been like this for as long as I can remember irrespective of sleep, water intake, caffeine etc. and needless to say I've tried countless creams in order to counteract this.

I was introduced to the Bobbi Brown extra eye repair cream about 2 years ago at the Bobbi Brown counter at Sandton City whilst shopping for another product and it immediately caught my eye. I love the packaging – it is presented in a glass jar so you can get just the right amount out that you need. At about R700 it is quite expensive, but because the cream is sooo rich, you only really need to apply a small amount, so you get more bang for your buck. You need to apply some to your under eye area in the morning and to your entire eye area (under eye and brow bone area) at night.

The cream is extremely rich and moisturizes and hydrates the delicate eye area to perfection! It is absorbed easily into the skin and concealer goes on seamlessly. You will notice the difference immediately, I have been using the cream on and off for 2 years now and it has made a significant difference to my under eye area.

User reviews
Bobbi Brown Extra Eye Repair Cream
The makeup artist at Bobbi Brown in Edgars V & A Waterfront used this eye cream on my very puffy eyes and almost immediately I could feel the product cooling my eye and a bit of a tingling and it reduced the puffiness significantly.

If not for the exhorbitant price I would have liked to purchase this product.
Was this review helpful to you?
Bobbi Brown Extra Eye Repair Cream
Back then before I purchased it I had asked the Bobbi Brown sales assistant for a take home sample which they give to you in tiny little jar, and lasted me a few days, but I'm not sure if they do that anymore, but you can still go the counter and ask for a sample or ask for a free application.
Was this review helpful to you?