Beaucience Eye Rescue Gel
Hot
July 15, 2012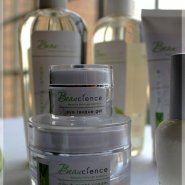 Product Info
Where to Buy
www.beaucience.co.za
Beaucience eye gel has been formulated specifically to protect and nurture this fragile skin, leaving the skin toned, conditioned and smooth. Helps to protect the delicate skin around the eyes and lips.

This unique gel is non-sticky and easily absorbed. Enriched with Organic Green Tea as well as Eco Certified Proteasyl (a peptide, derived from peas) and Eco Certified Hibiscus.

Recommended Retail Price: R84.99
User reviews
Part of my Beauty Regime
I received 2 sample size sachets of this. Since you don't use lots of it I managed to use the samples for 2 whole months. Now that I have seen the results I am really willing to purchase the tub.

I really love this affordable eye serum/cream. It does not react negatively to my skin. I suffered with puffiness below my bottom eyelid and applied this daily. The puffiness stopped and eventually the dark circles also disappeared.

It is in a clear gel form which absorbs very quickly into your skin and it does not leave any residue which makes it perfect even for use in the morning under your makeup.

I apply this in a soft patting motion upwards from the inner corner to the outer corner of my eye. I would certainly purchase this product.
after 3 days the dark circles under my eyes appeared lighter very good product
The refreshing eye gel is a real treat. A concentrate of green tea, Proteasyl and hibiscus extract that I apply to the delicate skin around the eyes. Although it is recommended day and night, I only use it at night. An immediate soothing effect that I look forward to every night!

This one is a keeper!