Zinplex Treatment Gel 50ml
Hot
February 11, 2014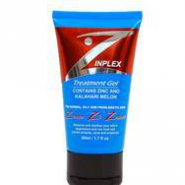 Product Info
Where to Buy
Checkers, Pick n Pay, Clicks, Most stores and Pharmacies. I normally buy it at Dischem which has it for R54.95, the cheapest price I have seen so far
Zinplex is suitable for problematic skin.
User reviews
No more acne
Used to use this as a teenager, definetly recommended for younger acne prone skin
Product Recommendation
Would you recommend this product to someone else?
Yes
Would you repurchase this product?
Yes
Was this review helpful to you?
Zinplex Treatment Gel 50ml
The Zinplex Treatment Gel contains Zinc and Kalahari Melon Extract which are bonded to yeast cells for maximum absorption through the skin. The Zinc is placed within the skin to act against the pimples & acne, and assist in the cleansing process of the skin. Regular use of the Zinplex Treatment Gel may clarify the skin, reduce oiliness and improve the skins texture and tone. This product is suitable for normal, oily and problematic skin types.www.zinplex.co.za
Was this review helpful to you?