Zinplex Facial Wash 100ml
Hot
February 11, 2014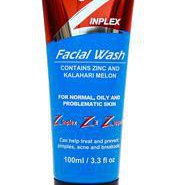 Product Info
Where to Buy
Checkers, Pick n Pay, Clicks, Most stores and Pharmacies. I normally buy it at Dischem which has it for R54.95, the cheapest price I have seen so far.
Zinplex facial wash is suitable for problematic skin, I have been using it for just over two years. I battled with acne, breakouts, oily skin and marks. My skin has definitely improved, fewer breakouts and less oily skin. I have received many compliments on my skin. It works best when used in conjunction with, the Zinplex facial gel, Zinplex moisturiser and Zinplex Exfoliating scrub / mask 2 in 1. Zinplex has many other products on their site. ww.zinplex.co.za
User reviews
zinplex face wash
Recently started using this product due to acne breakouts that multiple other products have failed to help with . Noticed a huge change in skin within 1 week. This product is a gentle texture that doesn't irritate the skin. The zinplex range is definitely unique and effective
Product Recommendation
Would you recommend this product to someone else?
Yes
Would you repurchase this product?
Yes
Was this review helpful to you?
Personal zinplex experience
I have been using zinplex for almost a month now and can honestly say that the change on my skin is amazing. I never had bad acne, but I used to get pimples now and then, suffering with breakouts occasionally. When I started using this product, all of that just stopped. Totally worth trying!
Was this review helpful to you?
Zinplex Facial Wash
The Zinplex Face Wash contain Zinc and Kalahari Melon Extract which are bonded to yeast cells for maximum absorption through the skin. The Zinc is placed within the skin to act against the pimples & acne, and assist in the cleansing process of the skin, while the Kalahari Melon extract ensures the skin is nourished with essential amino acids and Vitamins, protecting the skin against harsh environmental conditions.. It is a mild foaming cleanser specially formulated to combat Pimples, Acne and oily skin.
Was this review helpful to you?