Yardley Oatmeal Spot Buster body spray
Hot
February 16, 2018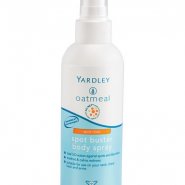 Product Info
Where to Buy
Available at selected Edgars, Foschini, Clicks and Dis-Chem countrywide
RSP: R74.95

Providing a 3-D action against spots and blemishes this body spray formulated with oatmeal this is a quick drying body spray that is organic and it helps reduce and prevent the appearance of spots.
User reviews
Worked as a spot treatment
I used to struggle with body acne when I was younger, so I bought the Oatmeal Spot Buster Body Spray. I was still just beginning to figure out my skin type, so I thought spraying this all over my back and chest would help clear up the acne I had in those areas. Instead of clearing the spots, it seemed to cause a flare-up on my skin and everything became worse. I ended up doing plenty of research, and it turns out that my skin may have been too dry/sensitive for me to apply this all over. I started applying the formula directly to the spots (and the spots only) with a cotton bud. This definitely helped clear them up, but I just found the formula to be too drying to spray directly onto large areas of my skin. If your skin isn't sensitive or dry, this might work for you.
Product Recommendation
Would you recommend this product to someone else?
No
Would you repurchase this product?
No
Was this review helpful to you?