Simple Soothing Facial Toner & Hydrating Lite Moisturizer
Hot
September 19, 2013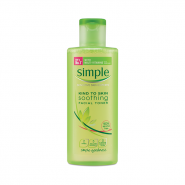 Product Info
Where to Buy
Clicks , Dischem
Such a great product! Since I started using it my skin has felt more revitalised and refreshed. Its fantastic to use after you have washed your face and your skin feels even better after you apply the Hydrating Light Moisturiser which doesnt leave your face looking greasy and glowing
User reviews
the toner
The simple range is such a delight to use , it's super caring to sensitive skin .the toner is exceptional. It leaves skin feeling clean and supple and not at all dried out, infact my skin feels moisturized after toning .it is free of alcohol ,perfume or colorants and contains vitamins so you can imagine how good it is for the skin !
Product Recommendation
Would you recommend this product to someone else?
Yes
Would you repurchase this product?
Yes

thanks!
i definatly would purchase this at my next stop in clicks!:) i was doubting about this but after i read your review there's no holding me back now!
Simple
Brilliant product that is inexpensive and leaves your skin feeling fresh and revitalized. Both the moisturizer and toner have a pleasant fragrance and the moisturizer doesn't leave your skin feeling / looking greasy. The product name really does say it all its all Simple and keeping it simple in my eyes is the only way to go.