POND'S Cleansing Balm 100ml
Hot
December 17, 2020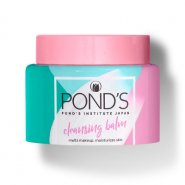 Product Info
Where to Buy:
Available at Clicks, DisChem and Foschini stores.
Shop now:
HERE
Price:
R199,99
POND'S Cleansing Balm features a unique blend of 100% natural oils and cleansing essences, including shea butter, cocoa butter, sweet almond oil, apricot kernel oil, and 100% organic French rose extract, that are pressed into a solid balm.
Once massaged into the skin, the balm transforms into a silky oil, melting away stubborn makeup and removing impurities. After removing, skin is left bare, hydrated, and soft to the touch. NO pulling or tugging required.