Neutrogena® Hydro Boost Facial Wipes
Hot
November 01, 2016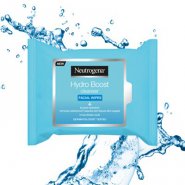 Product Info
Where to Buy:
Available in-store and online from Clicks, Dis-Chem, Foschini stores Price R99.95 for 25s
These soft facial wipes feature a silky cleansing lotion that leaves skin refreshingly clean. This oil-free, alcohol-free formula is suitable for sensitive skin.Neutrogena® Hydro Boost Facial Wipes instantly remove impurities and makeup impurities while providing a boost of vital hydration. 
Use morning and night. Sweep wipe over the face and eyes to cleanse.