Garnier Pure Active Daily Pore Scrub Wash
Hot
March 31, 2017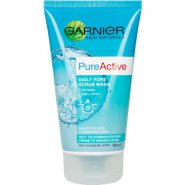 Product Info
Where to Buy
Available from Clicks, Dis-chem and their online stores Available from selected pharmacies and retailers Price: R 84.95
Garnier Pure Active Daily Pore Scrub Wash removes pores, impurities and blackheads.  It contains salicylic acid and zinc which fights spot-causing germs. 
User reviews
(Updated: February 07, 2019)
Garnier pure Active Daily pore srub wash
I already use so many of the Pure Active products, so I thought I should make an addition to my collection with this product. Of all the products in the Pure Active Skin care range this has to be my least favourite one.

In two days of using this product I started noticing small bumps on my face. This usually happens when I start using a new product so I continued to use it for a week and a half and the small bumps persisted. I also experienced redness. Immediately after I stopped using it, my face went back to normal in five days after going back to my usual face wash.

I was disappointed by this face scrub mostly because I have never been let down by a Garnier product. It's safe to say I would not recommend it to anyone with acne prone and sensitive skin.
Product Recommendation
Would you recommend this product to someone else?
No
Would you repurchase this product?
No
Was this review helpful to you?