Environ Skin Care Original Foaming Gel Cleanser
Hot
March 15, 2017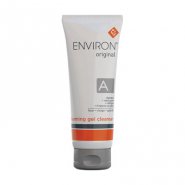 Product Info
Where to Buy
See link below to find a stockist near you

Price:
RRSP 175.00 - 100ml

Visit environskincare.com to find a stockist near you.
Environ is a globally recognised and loved Professional Skin Care brand that is built on science, beauty and care. We believe that skin has a life and that vitamin A is the "oxygen" it needs to look beautiful and healthy for life.
Environ Skin Care Original Foaming Gel Cleanser is a mild foaming wash. It removes make-up, excess oils and skin impurities without removing the skin's natural oils.