Bobbi Brown Hydrating Rich Cream Cleanser
Hot
March 06, 2012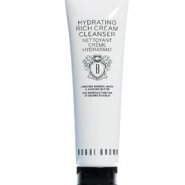 Product Info
Where to Buy
Edgars - Bobbi Brown counter
Hydrating Rich Cream Cleanser is formulated with rich emollients and Enriched Mineral Water Blend to cleanse, purify and remove all traces of dirt and makeup without stripping skin of moisture. Avocado Butter and a natural blend of Jojoba, Avocado and Grape Seed Oils gives skin a cushiony, comfortable feel. This newest addition to the Hydrating Skincare line gently and effectively removes impurities, leaving skin feeling soft, smooth and supple. Ideal for all skin types.

How to Use:

Gently massage onto skin, rinse with warm water.
User reviews
For most women, finding the perfect cleanser is a daunting task. Ask them to find a hydrating cleanser and you'll really shake things up!

Bobbi Brown's New Hydrating Rich Cream Cleanser is exactly what it claims to be and more. Makeup washes away easily from your face whilst still being gentle and very effective. I do have very dry skin, especially during Winter months and this product proved to be very hydrating. My skin experienced no tightness or stiffness after washing.

The Bobbi Brown Rich Cream Cleanser is enriched with Avocado Butter and so, there is a noticeable but pleasant fragrance. I really don't mind the smell at all but if this is an issue for you, I would strongly suggest asking for a sample or trying it out at a Bobbi Brown Counter first.

The price was a bit of an issue for me - Bobbi Brown's Hydrating Rich Cream Cleanser retails for around R395.00 for 125ml but if you're serious about adding a hydrating cleanser to your skincare, then look no further!
Was this review helpful to you?