The Body Shop Olive Beautifying Oil
Hot
May 21, 2015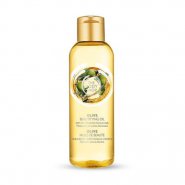 Product Info
Where to Buy:
R130 The Body Shop Nationwide
A blend of nut oils and Community Fair Trade Marula Oil gives this oil its lightweight and nourishing properties. Quickly absorbed into the skin, the oil instantly hydrates the skin, leaving it feeling soothed and shimmering. A slightly fruity scent is left on the skin after application. Can be used on hair, face and body to nourish and hydrate.
User reviews
Good
The body shop products are best purchased when they have their amazing sales and this when I picked up this oil. They had a variety of oils for you to choose from and I've never used olive oil before on my hair, so I purchased this. It also states you may use this oil for hair ,face and body so making it that more exciting with its multiple uses. Who doesn't like to get their moneys worth out of a product, right?

I absolutely love hair oils and trying new ones. I use them very often as I grew up using coconut oil for healthy hair care.

I don't care for the smell of this olive beautifying oil but that's a matter of preference. I like how moisturised my hair feels especially since I have colour treated hair which can be very dry. The smell doesn't last after you wash your hair and I personally leave it on overnight or more than a day for best results. You can even use it after your hair wash , just a few drops on the fingers and rub them on the end of the hairs to reduce the appearance of dryness.

I would definitely recommend this oil and I can't wait to try the different kinds.
Product Recommendation
Would you recommend this product to someone else?
Yes
Would you repurchase this product?
Yes
versatility at its best
I bought 3 for 2 on the body shops' famous sale.
I got the olive;coconut and moringa.
My favourite though is the coconut....i adore the smell.
This is a dry oil for hair face and body.
It does not contain shimmer like the honey bronze range
But it can be used in a multitude of ways.
On the face to highlight under the brow bone or on the apples of cheeks.it can be used as an overall facial oil as it absorbs clean n leaves a dry subtle sheen.
On the hair as a preconditioner prior to washing.or after washing as a serum.after heat styling to smoothe flyaways.
On the body on its own to moisturise.ormixed with liquid bronzer on the legs to elongate or highlight.
You could even mix it with your fabourite body lotion as an intensive nourishing treat.
These are my favourite ways of using this.
What is yours???
Beauty in a Bottle!
I purchased this multi-task beauty in a bottle just over 2 weeks ago and I'm loving it! This olive beautifying oil can be used on your face, hair and body. Isn't that just AHmazing! My favourite use for it is on my face, it's light and absorbs very quickly so I don't wait long to apply my make-up. I do however prefer to use it at night. I find that my skin looks nice and plump in the morning. A few drops goes along way, so 4 to 5 drops is suffiecient for me because I have dry skin. For those who have oily skin, I would recommend that to use a little less. Its a case of trail and error I guess to see just how much your skin needs. Other uses would be to help with those split ends. I had loads of them and started using this oil on my hair after my 6week trim and I have NO split ends whatsoever!!! My hairs looking really healthy now, no more greasy thin looking hair. I would say if you have coarse hair like mine, use it when your hair is wet, it gives much better results. I also started using it on my elbows and knees since they become very rough during cold whether and the winter is slowly creeping up on us so I've got to give them extra TLC. My favourite thing about this oil is its lovely combinations of a fruity-floral scent. All-in-all I'm happy with my purchase. Plus it saves space in my toiletry bag when travelling. Not just because of it's size...What more can a girl ask for ;)