This lotion is amazing
Hot
May 28, 2014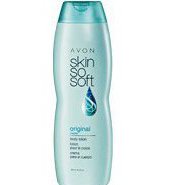 This lotion is so soothing to my skin. In the winter i suffer from dry skin, but this product keeps me hydrated without looking oily and greasy.
User reviews
Avon Skin so Soft Lotion
Avon always gives us what we want.

These body lotions are super amazing, they leave your skin really soft, it smells amazing and better yet it's so affordable.

A must buy product for sure.
BABY SOFT SKIN
Hi Ladies,

As winter is approaching we all know how dry and tight our skin gets. . . I tried the Avon Skin so Soft Fast Hydration Dry Oil Spray and the hair removal skin.

The Dry Oil Spray instantly leaves your skin soft and so so smooth. The best part is that is makes my legs look sexy as hell!

The hair removal cream isn't very strong and leaves the area as soft as a baby's bum - 1 of my new favourites.

Stay pretty,
Nevita :)
Always the best
I always complain to my bestie in winter that my skin feels so dry and flakey. She recommended i try this and it was on SALE and as we all know i love a sale so i bought to of them.

It is a water based moisturizer with Jojoba oil. It absorbs really fast and leaves your skin feeling and looking hydrated. Since it is water based it does not leave your skin looking or feeling oily or greasy.