The Body Shop Olive Body Butter
Hot
November 05, 2013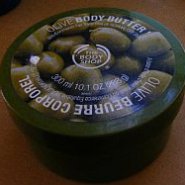 Product Info
Where to Buy
thebodyshop.co.za or their retail stores.
PRODUCT INFORMATION:
For Normal to Dry Skin. With 24 hour moisturisation. An intensive, creamy all-over body moisturiser. It absorbs into the skin easily, helping to condition, soften and smooth the skin and prevent dryness.

Contains amongst other ingredients Olive Oil. Shea Butter and Cocoa Butter.


User reviews
cream awesome, smell not a fan
I love the cream, but the smell I found was a bit off putting....I liked the idea of it but when putting my nose to it i was not really a fan of buying it afterwards. How ever my mother LOVED the smell, so she bought it so maybe its just me haha
olive body butter
i really have dry skin no matter how much cream i put on in an hour it feels dry again , i suffer from rasacio and mild skin condition .... always looking for something to feed the skin ...was so impressed with this olive body butter from the body shop.
it felt soft nice and my skin felt fed... i put some on my arms at first but after 2 hours i remembered wow previuosly i had to apply more cream in an hours time went for 5 hours and then applied again just because my skin needs it not because it felt dry !! love this ,it my new best friend now !!
OLIVE BODY BUTTER PAMPERS THE SKIN!

MY FINDINGS:
1)Rich & luxurious creamy butter.
2) Smells great. Maybe not as heavenly as some of their other body butters and products, but still great!
3) Although quite rich and creamy it does not take as long to be absorbed as expected.
4) My skin felt an immediate hydrating jolt!
5) The effect last and last. Two days later my usual alligator legs were still as soft as silk.
6) It is a bit pricey at R140 for 200ml. The jar will last you a long time though, as you only use a small amount at a time.

I definitely recommend this product when your skin needs a bit of spoiling!