Hey Gorgeous Choconut Body Butter
Hot
March 05, 2014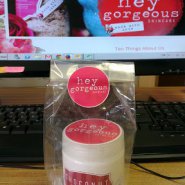 Product Info
Where to Buy
http://www.hey-gorgeous.co.za/
Choconut Body Butter for soft, supple and sensuous skin.
User reviews
Absolutely Gorgeous!
I recently purchased the Hey Gorgeous Choconut Whipped Mousse and I adore it. My skin is left super soft, non greasy and smells good enough to eat. The fragrance also lasts surprisingly long too.
Was this review helpful to you?
Better Than a Bacon Butty!
This butter wouldn't melt in your mouth!

A beautifully branded range of products, who are proudly South African and only use natural ingredients: organic and vegan where they can!

These little jars of heaven not only leave your skin feeling like silk, they smell good enough to eat! I can't stop slapping on my Choconut body butter because it smells so delicious and it doesn't leave my skin feeling heavy or greasy. My skin feels nourished and absorbs soopa-quick.

Wee pots of sweet vintageness that don't cost an arm and a leg. They even offer Apple Crumble Kitchen Cleaner! Who doesn't want their house and body smelling of these scrummy things?

Was this review helpful to you?