Sanex Dermo Advance Shower and Bath Gel
Hot
August 25, 2014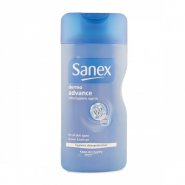 Product Info
Where to Buy:
Pick n Pay Clicks Dischem Woolworths
the soap free formula is suitable for all skin types and helps to liven up dull looking skin. The ultra hygenic agents effectively remove impurities from your skin, while still leaving it soft and cared for.
User reviews
Sanex Body Washes
These are for sure one of best body washes on the market. They super affordable and foams up really nicely when showering , this means I get more for my money.

They also smell amazing and theres a large variety of scents to choose from.
Was this review helpful to you?
Sanex Dermo Advance Shower and Bath Gel
I bought this Sanex Dermo Advance Shower and Bath Gel specifically for after-gym workouts. I wanted something that made me feel clean and refreshed after a sweaty session.
This shower gel creates a very thick foam and only requires a small drop for a nice shower. This makes it very economical as I have had my 500ml bottle for 3 months!
It has a subtle fragrance (I do not like perfumey soaps), and achieves what I was looking for in a post-gym shower gel.... clean and fresh feeling skin.
Was this review helpful to you?