Nature Box Apricot Body Scrub 200ml
Hot
June 03, 2020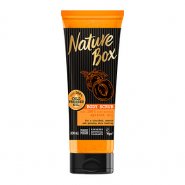 Product Info
Where to Buy
Body Scrub 200ml R89.99 Available from Dischem, PnP, Clicks, Checkers and Takealot.
Unsaturated fatty acids and vitamin A in apricot oil create a natural protective barrier for the skin.
Each variant contains cold-pressed oils that are neither refined nor processed, meaning they're bursting with valuable vitamins, like A, B, C, D, and E, as well as healthy fatty acids and antioxidants.
Nature Box's cold-pressed oils protect the skin from drying out, whilst nourishing and refining to leave both skin and hair touchably soft. What's more is they're also totally free from silicones, artificial colours, sulfates, and parabens – leaving you with beautiful skin and hair, naturally!
Their tried-and-tested formula ensures that hair and skin are protected and treated by an almost invisible film of cold-pressed oils – no grease, no worries. And you can use their products with peace at heart – Nature Box is dedicated to creating sustainably and ethically so you can experience the power of Beauty Positivity: Knowing you are doing something good for yourself and the world's future.
Get yours nationwide from Dischem, PnP, Clicks, Checkers and Takealot.
User reviews
NATURE BOX APRICOT BODY SCRUB REVIEW BY @NICOLETYLERBLOG
Paired with the conditioner out of the entire range that i had received, the body scrub was definitely my favourite.I ran out of the body scrub and even had to head over to the Clicks nearby to go get more.It's really one of their best products that Nature Box has formulated.I'm really keen to try out the other variants as well.I would literally use any excuse to get into a warm shower after a long day to use the body scrub.It's really great and definitely a must have for body exfoliation ,especailly during winter to get rid of any dry or dead skin.
Product Recommendation
Would you recommend this product to someone else?
Yes
Would you repurchase this product?
Yes
Was this review helpful to you?