Lux Velvet Touch
Hot
July 11, 2013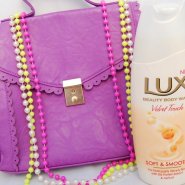 Product Info
Where to Buy
Lux Velvet Touch can be purchased all around the country at all leading retail stores, such as Clicks or Checkers.
I thought that the squeeze bottle was great, easy to hold thanks to the rounded shape, I noticed that the liquid dispenser was quite difficult to dispense of the contents properly. This could be a good and a bad thing, bad for if you are in a rush, good no leakage.

The smell of Lux Velvet touch Silk Protein and Apricot turns out to be my favorite because it leaves your skin feeling soft and smooth all day without any sticky residues or grease feelings when you first touch it. The smell happens to really smell like the actual Apricots as described on the label and also smells good for the entire day which was amazing since most body washes or shower gels have a dry feeling on your skin and the scent wears off almost instantly.

I feel that looking good and feeling good shouldn't take much effort and should be a pleasure to do especially for Soccer moms and business women who are constantly on the move.
User reviews
skin softening body wash 200 ml bottle.
The lux velvet touch body wash is a great buy as it promises and delivers on that promise! It's fragrant more so than the soap version and it's very foamy and provides a great bathing experience.it has a good bottle dispenser as no need to worry about the cap breaking off easily. It's worth Money spent and leaves the skin smelling great and feeling soft with its rich si'll essence, almond oil and opulent bouquet extracts.
mood lifter
lux velvet touch really makes your skin feel like velvet its smooth and soft and smells define really a to get in the mood smell. takes you to a new world
Lux Velvet Touch
You should try this out, who knows you might even love it as much as I do!