Hey Gorgeous Cupcake Bath Bombs
Hot
July 30, 2013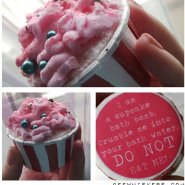 Product Info
Where to Buy
Hey Gorgeous website
Beautiful Hey Gorgeous Cupcake Bath Bombs look good enough to eat!
User reviews
Great as A gift!
I had to try these bath bombs once I found them online, but when I received them I was a little disappointed that the "icing" had fallen off. But never the less, I was excited to try them. I found the top of the bombs took a little long to dissolve, but the rest of the bomb dissolved quickly. It definitely made a difference to the water and I felt as if my skin was slightly softer when I got out the bath. I would definitely order more of these as gifts.
Was this review helpful to you?
Hey Gorgeous Cupcake Bath Bombs
I have been wanting to try these for such a long time and was delighted to receive one. It truly does look and smell like a cupcake. I love the pretty "icing" look and the warning sticker at the bottom of the cupcake gave me a little giggle. The bath bomb dissolves very quickly in the bath and softens the water rather well. One thing though, is that this doesn't really fragrance the water or room all that much. You are not going to have the same experience as with Lush, Rain or Tranquil Body Treat fizz balls.

That being said I think these will make such beautiful Birthday gifts.
Was this review helpful to you?