Good stuff Body Wash Mandarin Blossom & Vitalising Mangosteen
Hot
February 28, 2014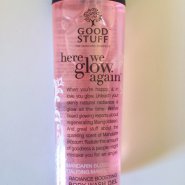 It's called Good Stuff and is made in South Africa and is exclusively sold in PnP. It's animal cruelty free, and most of their products are vegan friendly as well. The products are affordable and I'm really impressed!
User reviews
Smells fab!
I was pretty impressed with this product, great smell and lathers well, also easy to buy along with all your groceries!
Was this review helpful to you?
Good stuff Body Wash Mandarin Blossom & Vitalising Mangosteen
This one has got to be my favourite it's called Here we glow again and it really as an amazing smell, it's mandarin blossom and mangosteen scented, to be honest with you ladies I have no idea what mangosteen is in fact never heard it before.

Not only does this body was smell great, bit it's super soft on my skin and it gives sufficient later . This means less product to use and means that I only need a little .

What makes it even better is the cute description of the product on the packaging. I mean, how many companies take the time to have something creative written up and printed on the packaging?

So ladies go out and get one there's quite a few in this range and everyone of them smells so good.Price is super cheap I paid R17 for 200ml.What a bargain!!!

Don't just take my word for it.
?

Was this review helpful to you?