Eucerin DermatoCLEAN
Hot
October 23, 2013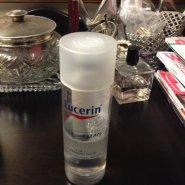 Product Info
Where to Buy
Clicks, Dischem
As I often travel overnight it is sometimes a bit if a pain to pack my eye make-up remover, cleanser, toner etc. this product allows me to pack just one bottle that takes care of the whole shebang !
Suitable for all (including sensitive) skin types, this little gem of a 3 in 1 is a great buy.
I would not swop it for my regular routine products by its a great standby for short term travel or late night bedtimes.
User reviews
Eucerin DermatoCLEAN
Great standby product for travel or late-night 'shortcut' routines.
Was this review helpful to you?