The Nivea Cellular Anti-Age Facial Day Cream SPF15
Hot
September 08, 2014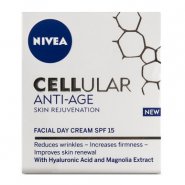 Product Info
Where to Buy
Leading supermarkets and pharmacies nationwide.
A lightweight moisturiser for day that protects and nourishes the skin while banishing pesky wrinkles.
User reviews
Fantastic Nivea!
I have always sworn by Nivea products and this one is exactly the same. While I still prefer my Rich Moisturising cream, this product was really really good, and didn't cause my sensitive skin to react!
Was this review helpful to you?
A Dream of a Day Cream
Nivea have done it again with their day cream from the Cellular Anti-Age range.

This light weight day cream is an absolute pleasure to use. A little goes a long way, however, I loved the feel of this cream on my skin that I couldn't resist piling it on every morning. A light scent of magnolia awakens the senses and Hyaluronic Acid in the formula ensures the skin is kept hydrated all day long.
The moisturiser does contain an SPF of 15 but I would advise to still double up with your own sun cream underneath, as I did.

I loved that this moisturiser didn't interfere with any of the products I layered over it and absorbed into my skin beautifully. I noticed a remarkable difference in the look and feel of my skin and am truly impressed with this product.

Nivea Cellular Anti-Age Facial Day Cream SPF15 (50ml) R189.99
Was this review helpful to you?