Revitalising Solution
Hot
March 03, 2014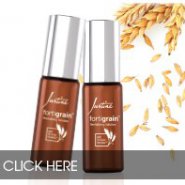 Revitalising solution with Fortigraine that adds new life to dull and dry skin for a softer and smoother complexion and radiant skin.
User reviews
Justine to the rescue
While the product delivers in terms of comfort , restoration and revitalization of skin i simply could not tolerate the smell! It smelt like dog food to me! Previously it's predecessor epigran also had this signature smell but if u can get past that this spray on easily absorbed anti aging serum of sorts is a good buy !
Was this review helpful to you?
Revitalise skin with Justine Fortigraine
A unique spray action combination that gently nourishes dry and dull looking skin for a richer, plumper and healthier complexion.

This was in my beauty hamper from BB too and its soo gentle. All I need is a good couple of soft sprays on my skin and then I just spread it evenly using my fingertips. I prefer to use this in the everning for a lovely skin treat.
The wheaty smell did put me off in the beginning but now I am used to it.

Its a fabtastic product and I canhonestly say that after using it for about a month I have noticed a lovely glow in my complexion and fine lines seems almost impossible to ever reach my healthy skin. Wow, it really works great.



Was this review helpful to you?