NIVEAS CELLULAR ANTI AGE FACIAL DAY CREAM
Hot
October 14, 2013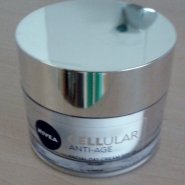 Product Info
Where to Buy
Dis Kem and Clicks
The cream has a subtle fragrance when applied to the skin. This product has the ability to deeply penetrate the skin especially targeting fine lines around the eye area creating smooth skin. The cream is non greasy and gently irons out stubborn aging lines. An added value is that it has a SPF 15 which is vital for the busy woman of today.
User reviews
NIVEA Cellular Anti-Age Facial Day Cream
To be able to submit.an honest review I decided to use the product for a period of 10 day. I am really dedicated to the cleanse/tone/moisturiser routine which has more than paid off in terms of the condition of my 54 year old skin.
Firstly, I like the packaging of this product. There is something comforting in the familiarity of the blue NIVEA circle, it's a brand that has 'been around' for a very long time and has evolved beautifully in terms of packaging.
The pricing is great....used correctly I reckon this jar will easily last for 3 months. At -+ R179 that's great value. Use it right to the base of your neck and onto your décolleté - at the price, you can afford to.
The cream is light and readily absorbed....it feels lovely on your face. I apply my BB Cream almost directly afterwards and it's blends well over the moisturiser. Love the SPF 15 in both as I live at the beach.
After 10 days, my skin feels great. Ok, I have been cheating and using it at night as well but it really plumps my skin up with moisture.
I will definitely continue to use this cream going forwards and thank Beauty Bulletin for introducing it to me.
I highly recommend member's to give it a try. You will see results.

NIVEA CELLular Anti-Age Facial Day Cream
I have been using the product for a week and although I like it a lot, I have started getting pimples. I'm not sure whether this is part of the cell rejuvenation process, but I really don't like it. But, hey, if it pays off in the end, I'll bear with it for now.
NIVEAS CELLULAR ANTI AGE FACIAL DAY CREAM
This cream is a must for all woman, young and mature. My skin feels revitalized.