Neutrogena Anti-Oxidant Age Reverse Eye Cream
Hot
September 14, 2010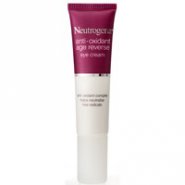 A Botanical Antioxidant Helps Calm and Guard Skin from Environmental Damage. Gamma Tocopherol - One of The Most Potent Forms of The Naturally Derived Antioxidant Vitamin E. Essential Soy - Rich In Proteins, Isoflavones and Natural Moisturizers Helps Smooth Out Texture, and Brighten Tone. Discover The Age-Protecting, Age-Reversing Power of Anti-Oxidants. Sun, Stress and Pollutants Can Generate Free Radicals That Can Damage Skin and Cause Premature Signs of Aging. This Exclusive Triple Antioxidant Blend Helps Neutralize Skin-Damaging Free Radicals For Noticeably Younger-Looking Skin.
User reviews
Perfect all-round moisturizer
I have been using this moisturizer for years and its the best one out there! I love it because:

It has an effective sun-protection factor which is priceless in our South African climate.

Its oil-free. I really hate the feeling of creams on my skin (especially the face!), and this product soaks straight in as soon as it is applied.

You only need to use very little for each application so it lasts me on average about 12months for each bottle, making it extremely cost-effective.

This product ticks all the right boxes in my opinion!
Was this review helpful to you?
Neutrogena Oil Free Moisturiser
I've been using the Neutrogena Spot Stress Control range for about 5 months now and it really is a great range for oily/blemish prone skin. The Hydrating Moisturiser in this range just hasn't been enough for my skin since the weather started changing and I noticed I started getting dry spots around my mouth and chin area so I changed over to this awesome moisturizer.

Why I love it: Its oil free so its great to use if you are afraid of breaking out if you are prone to breakouts and blemishes. Its non-comedegic so its not going to clog up pores! Bonus!!!! It gives the right amount of moisture without looking greasy. My skin feels moisturized all day and feels silky soft. The bottle is 100ml which is huge considering most moisturizers come in a 30ml-50ml container. This is a liquid as opposed to a crème moisturizer so its light and perfect for normal to combination as well as oily skin tones.

It also has a SPF15 which is great so you really feel like your skin is being protected regardless of the fact thats its autumn and the sun isn't as strong. Its fragrance free and hypo-allegenic so its suitable for sensitive skin types too.

It retails for around R100 at Clicks

Was this review helpful to you?