L'Occitane - IMMORTELLE DIVINE CREAM
Hot
June 20, 2012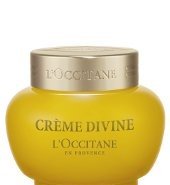 Product Info
Where to Buy
Stuttafords
R 1100 for 50ml
Description A luxurious cream that unites pleasure with performance.The formula is enriched with plant oils that contain a high level of omega-3 and -6 fatty acids, for a silky texture and excellent nourishing properties. Upon application, the sensation of well-being is immediate, while the skin feels wonderfully soothed. It stimulates microcirculation, collagen synthesis and protects against free radicals. Vitamine C derivative and parsley,reduce visible dark spots, helps to correct pigmentation irregularities and enhances the radiance of the skin. - Awarded the highest score in the 'Miracle Cream' section of a new book called The Anti-Aging Beauty Bible written by highly influential UK journalist Jo Fairley. Application: Apply every evening and morning after cleansing your skin. Ingredients Organic Immortelle essential oil Formulated with micro-capsule delivery system Organic Myrtle essential oil Vitamin C derivative and parsley A combination of oil plants (Camelina, Echium, Primrose, Borage) Minerals and trace elements Organic Immortelle essential oil Formulated with micro-capsule delivery system Organic Myrtle essential oil Vitamine C derivative and parsley A combination of oil plants (Camelina, Echium, Primrose, Borage) Minerals and trace elements information courtesy of www.glossybox.co.za
User reviews
Okay, so I know the price might scare you off, but hear me out ....

I got a sample of the Divine Cream (and it really is DIVINE) in my June GlossyBox...

I immediately read the leaflet and rushed to the bathroom to cleanse and tone so I could see for myself, as they claim you can see immediate results like skin radiance....

I took a tiny bit of the Divine Cream and rubbed it over my face... it covered completely without being too little product or having that horrible oily residue you get from too much product.

I really did see an immediate improvement in especially the skin radiance department, and can I just add, I've been using it day and night (yes that tiny little sample) for three week straight and I'm not even halfway through the sample. I definitely LOVE it... it's amazing and since I've been using it, I've had absolutely no need to exfoliate.

My skin is radiant, it's soft, I look younger (it plumps out the tiny wrinkles) PLUS I get a load of compliments on my skin lately!

So I know it's a lot of money, but if I am only halfway through the sample (i think it's like 3ml or something) after 3 weeks I'm sure this could be value for money. It will last long if you look after it...

I call it my fountain of youth in a pot... ! I'm loving it... and if you're not going to use it, well, sorry ladies, soon I'll be younger than all of you !
Was this review helpful to you?