L'Oréal Paris Revitalift Day Cream SPF30 (Dark spots and fine lines)
Hot
November 04, 2016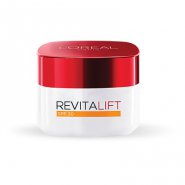 Product Info
Where to Buy
Available from: The L'Oréal Paris skincare products are available from major retailers nationwide; these include, but are not limited to, Foschini, Dis-Chem, Clicks, Zando, Edgars, Pick 'n Pay and Checkers.

Price: 50ml - R179.95
Enriched with Pro-Retinol A + Elasti-Flex - skin is protected, wrinkles appear reduced and skin feels firmer and hydrated. The Revitalift Day Cream SPF30 contains SPF 30 and Advanced UVA protection.
Shields against the No1 cause of premature ageing. Our 'skin defence' filters shield from harmful UVA rays that can pass through cloud cover and glass. 
Used daily, the broad spectrum UV protection helps guard your skin against the sun's most damaging rays.