L'Oréal Paris Revitalift Day Cream Light Texture (Oily skin, Enlarged Pores and Fine Lines)
Hot
November 04, 2016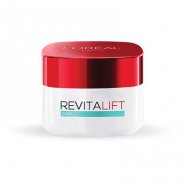 Product Info
Where to Buy
Available from: The L'Oréal Paris products are available from major retailers nationwide; these include, but are not limited to, Foschini, Dis-Chem, Clicks, Zando, Edgars, Pick 'n Pay and Checkers.

Price: 50ml - R179.95
A new light textured Revitalift formula with anti-wrinkle and extra-firming efficacy. It is enriched with advanced Pro-Retinol and Fibrelastyl to visibly help reduce the signs of ageing.
Skin feels hydrated and toned without leaving it looking shiny.
Apply the cream every day on a thoroughly cleansed face and neck. Apply in circular motions for better absorption.