Garnier Ultra Lift Night Cream
Hot
March 20, 2012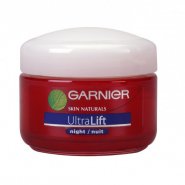 Product Info
Where to Buy
Edgars, Clicks Discem
Garnier Ultra Lift Night Cream with Pro- Retinol is effective.It is a anti- wrinkle and firming product.It helps for wrinkles,dry skin and fine lines.
User reviews
Hey BB Babes :)

With Pro-Retinol from nature, this anti-wrinkle firming night cream continuously delivers a clinically effective, wrinkle repair action to the core of each wrinkle to plump, fill and smooth even pronounced wrinkles without harsh side effects.

Over time, skin loses its ability to retain essential nutrients, collagen begins to break down , wrinkles and loss of firmness occur.

Ultra-Lift Anti-Wrinkle Firming Night Cream combines Pro-Retinol from nature with other skin-essential nutrients to instantly restores firmness and boost nightly wrinkle repair.
After cleansing, use Ultra-Lift Anti-Wrinkle Firming Moisturizer SPF 15. After, dab Ultra-Lift eye cream around the delicate eye area, morning and night.

For advanced care, incorporate into your routine: Ultra-Lift Anti-Wrinkle Firming Eye Cream & Clinically tested and reviewed by dermatologists and nutritionists.

Instantly: skin is visibly smoothed and deeply hydrated. In 4 Weeks: wrinkles are reduced and natural firmness is restored. With Continued Use: wrinkles are lifted, skin is firmer, and a more youthful look is restored.

Quick Tip: Apply before bed to a clean face and neck. This rich, yet lightweight moisturizer is immediately absorbed without leaving a greasy or sticky feeling.

Price: R104.99

Highly Recommended :)

Stay Beautiful!

xxxG*

Was this review helpful to you?
Was this review helpful to you?