Avon Anew Clinical Pro Line Corrector Treatment
Hot
June 20, 2013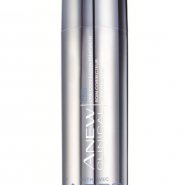 Product Info
Where to Buy
Avon distributors
A treatment that contains patented A-F33 (Amino-Fill 33), an innovative molecule that was developed with Neostrata, a leader in topical anti-ageing technologies. The molecule works to deactivate critical collagen blocking in skin cells, and helps to unleash untapped collagen. 100% of women showed results on fine wrinkles in 2 weeks.

User reviews
Avon Clinical Pro- Line Corrector
I got this Serum as soon as it came out, as I love Serums, and am always fighting a war with my wrinkles, and this looked like a great defense.
I was super impressed by the packaging, like a Silver Bullet, and the cream was silky and absorbed easily, a little goes a long way. It smells almost like Maple Syrup and was not one of my favorite smells, and when I used this product it made my skin tingle a bit, and about a week after first use a got a bit of a breakout of small white spots on my forehead, when I asked my Avon rep about this she said I might be a bit young for this Serum (I am 37) and should wait a bit before using it again. I was impressed by the Serum it did pump up my skin and make my forehead lines look a little less furrowed. But I wont be purchasing this again for a while as it was not 100% happy with my skins reaction to it.
Was this review helpful to you?
Avon Anew Clinical Pro Line Corrector Treatment
I received this product from the fab BB girls and I couldn't wait to try it! I have laugh lines… way more than I want on this 35 year old face. When I read Avon's claim that '100% of women showed results on fine wrinkles in 2 weeks' I was super excited. This treatment contains the patented A-F33 (or Amino-Fill 33) molecule which is said to help unleash untapped collagen. Sounds promising, doesn't it? So let's get to the review…

The packaging of the treatment is plain, simple and elegant. I like that. The product is dispensed via a pump and one pump gives you the perfect amount of product. The treatment itself is white in colour and has a very faint scent (which is lovely). The texture is that of a water-based serum which feels cool when applied. It sinks into the skin almost immediately and leaves the skin feeling soft and smooth. No sticky or greasy residue. I have been using this product once a day for over a month and it isn't finished yet. Bargain. I easily added this product to my current skincare routine and it works well with my other products.

I have been happy with the results so far. My skin feels smoother and appears a bit more radiant since using this product. My skin is very dry at the moment and it also feels as though this treatment has helped to moisturise my skin. But I must admit that a have not seen a difference to my fine lines. That has been disappointing. Maybe I need to use the product for a little longer before I can see an improvement. All in all it is a lovely product and I will enjoy using it till the last drop, even though it is not a product that I will purchase for myself.

Was this review helpful to you?