New BB Cream from Ponds
Hot
February 12, 2014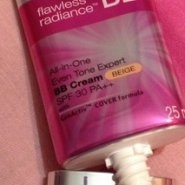 Product Info
Where to Buy
I just bought my third one at Foshini
I will absolutely be keeping this on hand. Oh yeah, I have used it every day for almost two months and it feels like I have barely dented the amount of product in the tube, so I love that!
User reviews
Ponds BB Cream
I have been using this for months. It is far better than the other average-priced BB creams. It does give light coverage and definitely evens out skin tone. It moisturises well, it isn't too greasy, something I've experienced with other BB creams.
BB Ponds not so flawless.
This is a good BB cream but it has one flaw, it's too dry so when you put it on it feels heavy and like you wearing a mask , not quite what I expected from such a excellent brand.
My new favorite product
've been looking for a good BB cream for a while and stumbled upon reviews about Ponds BB cream. My skin type is pretty normal and I do not get pimples other than the ones that appear during that time of the month. I applied this with no moisturizer beforehand. I was extremely pleased with the coverage and the finish. It did appear to even out my skin tone well and reduce redness. After a day's wear, I was extremely pleased with the product.