Motions Regular Hair Relaxer Cream
Hot
November 05, 2013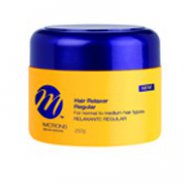 Product Info
Where to Buy
Dischem Clicks Pick n Pay
Motions hair relaxer helps to gently straighten your hair to have it silky smooth. it is a non-mix lye relaxer that is quick and easy to use. Depending on your hair type, (medium or course hair), you will be ready to wash out the relaxer in 15 to 22 minutes.
User reviews
Motions Regular Hair Relaxer Cream
Been using this for the past 3 years, my hair has grown and is stronger. it is very mild and doesn't burn my scalp. And i find i can prolong the time between my relaxers because its so effective and keeps it straight for long
Was this review helpful to you?
Motins Hair Relaxer is Gentle on your scalp
I am a person who relaxes her hair once every 3 or 4 months mainly because of how painful it is for me.

I have a very sensitive scalp and most relaxer creams start burning the second they reach my scalp.

I had a bunch of other Motions products already and i decided to try the Motions Hair relaxer.

First were the very easy to follow instructions at the top of the lip. I parted my hair and began to apply the relaxer from the back to the front of my head.

I was careful not to put any relaxer on my scalp as they say on the instructions (i'm yet to figure out how to avoid getting relaxer on your scalp and placing it ''6mm'' above the scalp on your hair).

however, as always happens, i ended up with relaxer cream on my scalp and began to brace myself for the burning sensation to start.

I continued to place the relaxer cream around my head and lo & behold! no burning had begun!

I smoothed my hair with the back of a comb and also my palm to get it as smooth as possible. when it was time to rinse 20 minutes later, i was NOT on the verge of tears because of any burning caused by the relaxer.

Instead, i calmly washed out the relaxer, used the conditioner, used the shampoo and used the conditioner again.

I had soft, smooth, straight hair and NO BURNS on my scalp caused by the relaxer!

This was definitely a first for me and i will be sticking to Motions Hair relaxer from now on!

10/10 for this product!
Was this review helpful to you?