Flexi Rods
Hot
June 10, 2014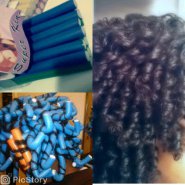 Curls with no heat. Just roll and twist.
User reviews
Flexi Rods
Yes here is it. The hair curler with no heat needed which means we saving electricity and preventing our hair from any further heat damage.

Flexi Rods are easy to use and are for ALL hair types and any hair length. They come in different sizes They can be use on dry hair or wet hair. But don't soak you hair with water now just a little goes a long way. Once you've rolled and twisted the rods together on your whole head all you need to do is let it set through air drying with takes a while and the longer you have them on the more set the curls are. If you are way to lazy to stay the whole day with then you can use a blow dryer. Once you've removed the flexi rods you can either leave the curls as they are or separate them creating a more fuller look. For best result apply a setting lotion or mousse on to freshly shampooed, conditioned and detangled hair.

I purchased mine at Manhattan Cosmetics in Durban for R25, a pack with 12 Super King size rods.
Was this review helpful to you?