Dark and Lovely Hair Refresher
Hot
October 11, 2013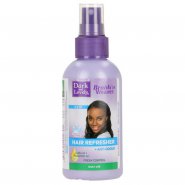 Product Info
Where to Buy
Clicks
Dischem
The new Dark and Lovely Hair Refresher helps keep your braids and weaves smelling ad looking fresh and clean. This is especially important for women who wear their braids or weaves for a long period of time. Always washing your hair is not usually an option and it's even bad for keeping your hair neat. This refresher gives your hair an instant fresh scent that is long lasting and pleasant.
This fragrance-boosted moisturising spray is enriched with natural oils and refreshes, moisturises, adds shine and most importantly, a fresh scent.

User reviews
Hair refreshner
For those with braids and lol are lazy to wash them but looking for instant moisture and fresh scent,then this is the product for you..Not only does it smell divine but the scent actually last longer without leaving the greasy messy feeling on hair
Product Recommendation
Would you recommend this product to someone else?
Yes
Would you repurchase this product?
Yes
Was this review helpful to you?
Dark and Lovely Hair Refresher
The Dark and Lovely Hair Refresher comes in a smaller bottle than other braid sprays do. Perhaps this is because it's a hair refresher and not a braid spray.
Anyway, I sprayed it in the morning, focusing on my hair. My braids smelt very powder fresh and I was very happy with the scent.

It claims to also add shine, but I did not realise any extra shine on my braids.
The scent does not last all day, however. By the time I get home after a long day of sitting in the office, the scent it gone, but my braids didn't have their usual 'stale' scent. By the next morning, though, another generous spray of Dark and Lovey Hair Refresher was indeed necessary.

I love this product mainly because of how innovative it is. As far as I know, there is no other product made simply for keeping your hair smelling fresh. Other braid sprays are very oily and leave you with greasy and easily gathering dirt.

The Dark and Lovely Hair Refresher is not oily and does not make your hair greasy.

A definite thumbs up - though there can be an improvement on how long the scent lasts.

Was this review helpful to you?