Motions Marula Natural Therapy Hair and Scalp Oil
Hot
October 28, 2013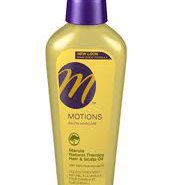 Product Info
Where to Buy
Clicks, Pick n Pay, major retailers R69.99
What the company says: Give your hair and scalp an extra moisturizing boost using Motions Marula Natural Therapy Hair and Scalp Oil. How This Technology Works •100% pure African Marula oil—rich in antioxidants, essential minerals and amino acids— permeates each strand of hair to protect against damage caused by heat styling and the environment. •Super emollient blend protects against breakage and restores hair's pliability. •Honey adds brilliant shine. •Chamomile and lavender extracts soothe the scalp and add vibrant shine. Why This Formula Is Better •Formulated for any hair texture, this replenishing serum tames frizz and makes styling easier.
User reviews
motions marula natural therapy hair and scalp oil
Bought when i had braids.first thing that attracted me to it was the great smell of the product. I never had dry scalp through out.
Product Recommendation
Would you recommend this product to someone else?
Yes
Would you repurchase this product?
Yes
Motions Oil
I like the way it makes my hair soft and it smells divine. My every night natural hair routine product. A little goes a long way.
Motions Marula Natural Therapy Hair and Scalp
Overall it is a great product but since the marketing point of the product is the 100% African Marula oil, which you find is only listed as one of the ingredients, I believe it is best to buy the pure Marula oil and mix it with your favourite carrier oils. SA is one of the major exporters of the pure Marula oil (a major plus). There will also be the added bonus of being able to use the pure Marula oil on your skin as well.