Palmers Coconut Oil Formula curl condition hair pudding
Hot
March 28, 2017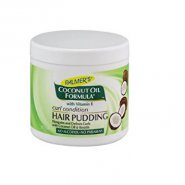 Product Info
Where to Buy:
Available from Clicks stores and online at www.clicks.co.za Price: R98.95
Palmers Coconut Oil Formula Curl condition hair pudding with vitamin E helps elongate and define curls. It is filled with coconut oil and Keratin. It is alcohol and parabens free.
It adds moisture and shine to hair. Transforming it from dry, frizzy hair to healthy bouncy hair filled with defined curls. 
User reviews
(Updated: August 25, 2017)
Probably not for 4c hair
I had a lot of expectations for this product (maybe a little too much). I have used it plenty times on twist outs and bantu-knot outs and found that it does not work well paired with other products (especially gels, both styling and curling gels). So I tried to use it alone as well, but I did not get the definition I expected. My twists had some curl in them but there was still frizz appearing which distorted the definition. I like the smell while it's in the packaging but it does not reflect onto the hair. All in all I do not think it did what it was supposed to, except maybe elongate my curls.
I'm considering maybe it was not made for my hair type (4c) which is kinky and coily. It specifies that it is perfect for naturally curly, wavy or frizz-prone hair.
Product Recommendation
Would you recommend this product to someone else?
No
Would you repurchase this product?
No
Was this review helpful to you?