Garnier Nutrisse Ultra Colour : Vibrant Red 5.62
Hot
April 12, 2013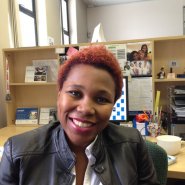 Product Info
Where to Buy
Foschini, Dischem, Clicks and Edgars
Product Description Rich, radiant, long-lasting colour, 100% grey coverage. Transform your hair with rich, radiant, long-lasting colour. Garnier Nutrisse Crème gives 100% grey coverage, even on your most stubborn greys. Our nourishing formulae Enriched with avocado and grape seed oil, Garnier Nutrisse Crème nourishes while you colour, as well as after. Your hair feels perfectly nourished and your colour stays looking radiant week after week. GARNIER NUTRISSE ULTRA COLOUR 5.62 Nourishing permanent hair colour - ultra visible intensity. Ultra Vivid and shiny red Extremely long-lasting colour result Nourished, healthy looking hair Enriched with fruit oils.
User reviews
I have been rocking a blond short afro for 8 months and I have been tossing up ideas in my head as to what colour I wanted my hair to be this coming winter. Being chosen to do the Garnier Nutrisse Ultra Colour review was all in perfect timing and I immediately chose the Vibrant Red 5.62 hair dye. My box got to me after a while thanks to the SAPO staff strike, when I got my package it seemed to have suffered some bumps and bruises but no serious damage. I did notice some red smudges inside of the package though I could not find the leak on the Nourishing Colour Crème tube.

The instruction manual was straight forward and easy to follow, After protecting my hands with gloves and protecting the skin around my hair line with petroleum jelly I was ready to start. The Nourishing Colour Crème went into the applicator bottle of Developer Crème, I did the shape and twist of the applicator nozzle top and was in business.

I loved:

• The pretty packaging of the Garnier Nutrisse Ultra Colour box and its contents.
• The easy to follow instructions
• The applicator bottle had the right size and was easy to operate.
• The smell of the dye mixture was pleasantly fruity and not over-powering.
• The non-drip of the dye on my hair.
• The texture of my dye mixture in my hair was soft and felt non-drying.
• The Nourishing After Colour Conditioner had the cutest green bottle ever (which I plan to re-fill & re-use when I travel) and it smelled like Spring.
• I love my hair colour, it was vivacious and vibrant and I was very pleased with how the red came out.
• My hair was left soft, shiny and easy to manage, which has not always been my experience with hair dyes.
The not so great part:

The gloves that came with the dye turned out to be the least of my favourite things in my Garnier Nutrisse Ultra Colour box. They were too loose so I ended with dye on my wrists, which was easy to remove at the end.

The unexpected surprise:

The following day some of my hair colour was left in my bath water. It has been 2 days now and the same thing keeps happening even though I only conditioned my hair. I am also starting to see that my naturally dark roots are going back to black and the rest of my blonde hair is becoming a funky purple-pink colour which I actually like, but at the rate I am loosing colour, I am scared the colour will not last for long. I am starting to suspect that the red smudges in my package which I did not take seriously, meant that the Nourishing Colour Crème got damaged somehow.

The resolution:

I will be soon running to Dischem to get another Garnier Nutrisse Ultra Colour Vibrant Red 5.62 because I refuse to let my vibrant red fade or to let SAPO ruin my shine.

Was this review helpful to you?