Garnier Nutrisse Ultra Color
Hot
March 11, 2013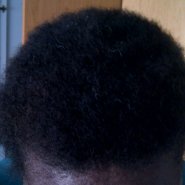 User reviews
Avon Ultra Colour Lip Crayon
Good quality + Fairly priced + Well packaged = Great product!
Favorite colour is Fresh Fuchsia. It is definitely fresh. It goes with almost any look, for me. Mauve Model is fantastic for the 'what makeup?' days - even for my skin tone. Not a big fan of the glitter, especially when aiming for the 'office look'. All in all, Avon Ultra Colour Lip Crayons get a thumbs from me.

Was this review helpful to you?
Applying the product was super easy. But rinsing it off was not.
The instructions tell you to rinse off until the water runs clear, but that did not happen with me. Every time I ran some water through my hair more color came out, even this morning (colored my hair yesterday) when I wiped my hairline after washing my face, my white face cloth came out with some pink tint on it. BUT I am loving my new vibrant hair color. My hair was quite dark before coloring and I was worried that the color will not be as vibrant, but man am I pleasantly surprised!

Was this review helpful to you?