PÙ_REE Conditioning Shampoo with organic Argan and Neroli Oil
Hot
July 16, 2015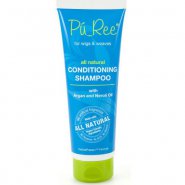 Product Info
Where to Buy
R120 Puree.co.za
Perfect for hair extensions and dry hair, the PÚ_REE™ for wigs & weaves All Natural Conditioning Shampoo is enriched with Organic Tea Tree Oil which gently cleans and removes dead skin cells from your scalp while promoteing healthy hair growth. Like the PÚ_REE™ for wigs & weaves All Natural Renewing Masque, this conditioning shampoo is formulated with Puree's unique CuticlePreserv™ Formula and hydrolyzed Quinoa which rejuvenate and protect hair cuticles – improving elasticity and natural shine. The Argan Oil present also moisturizes and nourishes while Neroli Oil tames frizz hair leaving it incredible soft, silky and tangle free. When used regularly it will strengthens and protect the hair – increasing the life of your hair extensions.
User reviews
PÙ_REE Conditioning Shampoo with organic Argan and Neroli Oil
I love my weave and wigs.I use Brazillian and Indian Hair which every girl who uses them knows are expensive so I need something inexpensive to maintain the shine,smoothness and colour of my hair(after all I bought it so it's mine lol).

The smell of the shampoo smells like nature,it smells pure.I LOVED USING IT because I knew that my hair was in safe hands as it's an organic shampoo-your hair will love you for that.
Don't be alert when it doesn't foam up like other shampooes,you don't have to apply alot....remember it's ORGANIC.
My hair looks,feels and smells AMAZING.

My tip when washing your weaves and wigs:
Let it air dry don't dry using a hair dryer as it tends to create splite ends and frizzy hair
Don't forget to check out my pics
Product Recommendation
Would you recommend this product to someone else?
Yes
Would you repurchase this product?
Yes
A MUST HAVE
It's a wonderful product used in conjunction with the masque are a girls dream come true.The fact that it works thru the hair making it softer without any product build up is the best thing for me.
need to try!
I am using the Masque from Pu_ree as well. What I like about the Shampoo is the clean, fresh smell. It cleans my hair gently and it it feels good to know I am not putting any chemicals on my hair!!!