Motions Salon Haircare Nourish Leave-In Conditioner
Hot
April 17, 2014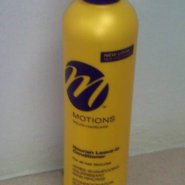 Product Info
Where to Buy
Most hair product retailers
•Strengthens hair with Vitamin E and Pro-Vitamin B5 •Increases hair's moisture retaining capabilities •Contains shine-enhancing silicones Motions Nourish Leave-In Conditioner will keep hair well moisturized without any residue and will not weigh your hair down. This Hydrating spray conditioner delivers extra shine, conditioning and detangling. It instantly softens, detangles, repairs and strengthens the hair while giving it maximum shine and the feel of healthy hair. Motions Nourish Leave-In Conditioner strengthens and fortifies hair with Vitamin E and Pro-Vitamin B5. Silicones and keratin proteins lock in moisture, enhancing shine and manageability. Use whenever you need extra conditioning to keep your hair looking healthy and soft.
User reviews
Motions Salon Haircare Nourish Leave-In Conditioner
I bought my Motions Nourish Leave-In Conditioner for R32.95 for a 354ml bottle. This leave-in conditioner pumped back some life into my tired tresses. It is a great leave-in conditioner which has become a staple in my hair care regimen. I apply it on towel-dried hair and at times on my dry hair for the much needed moisture. It always leaves my hair moisturised and feeling soft because of the moisturising blend of vitamin E and silk proteins. I have noticed that I experience less breakage and splitting because of the keratin which strengthens and protects my hair. This product also contains silicones which are supposed to gently detangle and give hair a vibrant sheen. I have experienced the detangling part but not the vibrant sheen. I also use the leave-in conditioner on my Remy extensions to add the much needed moisture. The conditioner does not leave any residue on the hair and it is faintly scented. It is great for all hair types.

Was this review helpful to you?