Motions CPR Treatment Conditioner
Hot
November 15, 2013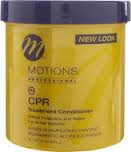 Product Info
Where to Buy
Dischem Clicks
Motions CPR Treatment Conditioner instantly strengthens and repairs the hair shaft. It has very hydrating moisturizers to deeply penetrate the hair shaft to help restore hair's health and vibrancy. In addition, the conditioner contains a blend of natural African herbs help nourish and protect your hair. It helps to strengthen and repair breakage-prone hair. You will see noticeable strength and repair of your hair with one application.
User reviews
Motions CPR Treatment Conditioner
Motions CPR Treatment Conditioner was my choice for my recently colour treated hair. My hair was brittle and breaking and so, I needed something that would nourish my hair and stop the breakage.

After shampooing my hair, I applied the CPR treatment. I liked the slightly minty scent and you could clearly see the herbs that are infused in the treatment. the consistency was thick and I felt confident that this treatment will be giving me the results I was hoping for.

I applied a generous amount and immediately felt the cooling sensation of the minty herbs.
Since I was doing this at home and don't have one of those Salon dryers to sit under, i covered my hair with a shower cap and used my hand held blowdryer.

I blew my hair for about 5 minutes, then left it alone for 10 minutes.

I then rinsed my hair and the conditioned came out easily. I would see the little bits of herbs also coming out.

My hair felt very soft after removing all the conditioner and I was ready to start blowing it dry.

The product claims to instantly repair your hair and with noticeable results after the first application.

Based on my experience, I will state that this was not the case. My hair was softer, but it was still breaking. I've made two applications in two weeks, and my hair is still breaking, albeit not as much as it was BEFORE i started using this product.
So, I'm hoping a couple of more treatments will give me good results.

Otherwise, it is an easy and pleasant product to use that promises great results if used consistantly with other Motions products.
Was this review helpful to you?