#ChooseAvonFarAwaySplendoria Project Wrap Up
Avon claims that one spray of AVON FAR AWAY SPLENDORIA, created with the rare, world's first exclusive white oud accord, will immediately transport you to this magical, alluring place of vibrant colour, sensual spice and balmy nights. A fragrance so indulgent, unique and mesmerising, you would be forgiven for thinking it's reserved for royalty and the rich and famous.
We recruited 150 fragrance fanatics to put AVON FAR AWAY SPLENDORIA to the test, to see if, from the comfort of their own home, or the mundane of their everyday lives, they can live their wildest, most luxurious daydreams as AVON FAR AWAY SPLENDORIA affordably transports them to the exotic. 
We wanted to know if it really is opulent luxury – for less? To see if you can travel without going anywhere? Do they enjoy an exotic staycation with a spray of Far Away Splendoria and should you #ChooseAvonFarAwaySplendoria too?
See below to find out what our authentic perfume lovers had to say. Did they #ChooseAvonFarAwaySplendoria?
The Trial Team 
Our fragrance fanatics are scent-obsessed connoisseurs who only buy premium fragrances. They're familiar with the best of the best and were the perfect perfume-lovers to put this scent to the test. 
See their post rollouts below: 
Week One's Story 
Our Luxe Fragrance Lovers introduced Avon's NEW Far Away Splendoria fragrance through gorgeous lifestyle shots and flatlays on their social media channels. They shared their excitement to trial this exciting new fragrance and were very impressed by the smell, describing the scent as rich, sophisticated, and long-lasting. 
Our Luxe Fragrance Lovers raved in their content, about how much they loved the affordability of Avon Far Away Splendoria, as well as the elegant purple Avon Far Away Splendoria bottle which made them think of royalty.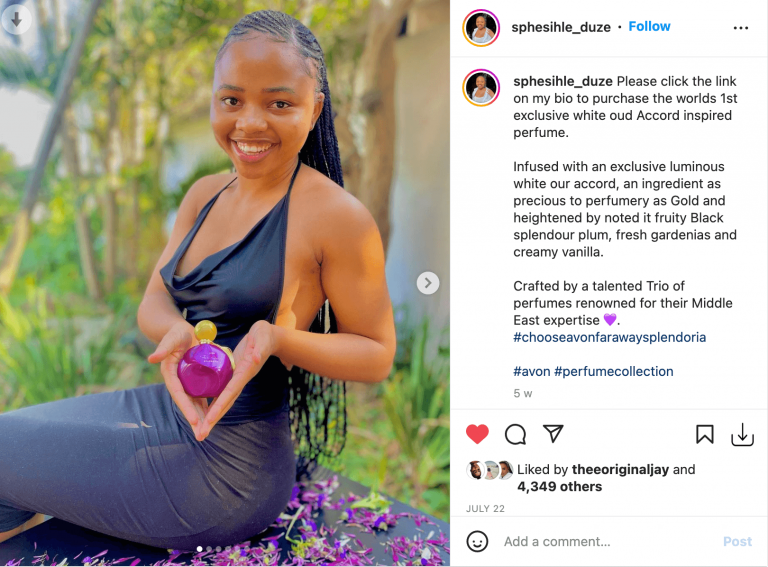 Week Two's Story
Our Luxe Fragrance Lovers created stunning content centered around how the scent of Avon Far Away Splendoria made them feel through exciting transportation and transformation transitions. From glamorous outfits and nights out, to the enchanting outdoors, our Luxe Fragrance Lovers got creative and really showed off the indulgent essence of Avon Far Away Splendoria. 
Our Luxe Fragrance Lovers shared in their captions and videos, that the fragrance is the perfect scent for springtime, with its unique white oud accord and woody tones. This exciting new fragrance was quickly becoming a new everyday go-to amongst them.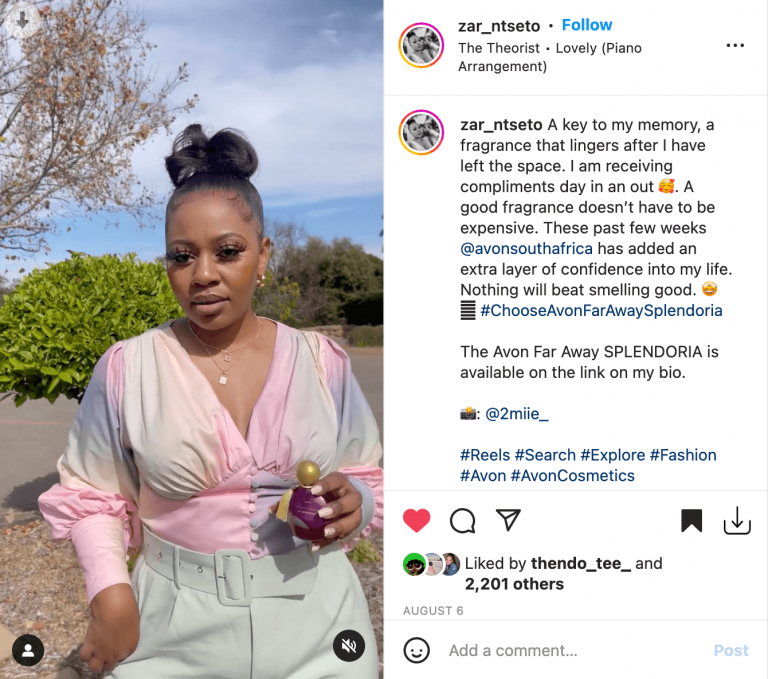 Week Three's Story
Our Luxe Fragrance Lovers got friends and family involved in their content for our Avon Far Away Splendoria Blind Scent Test E-vent. Lots of fun was had as Avon Far Away Splendoria was secretly sprayed for friends and family as they were asked questions about fragrance's scent and affordability. Many identified believed that the fragrance was overall very luxurious, and identified floral, fruity, and woody tones in the fragrance's scent.
Followers also had a great opportunity to join in on the excitement and enter our Avon Blind Scent Test E-vent competition for a chance to win their own Avon Far Away Splendoria during the course of the week.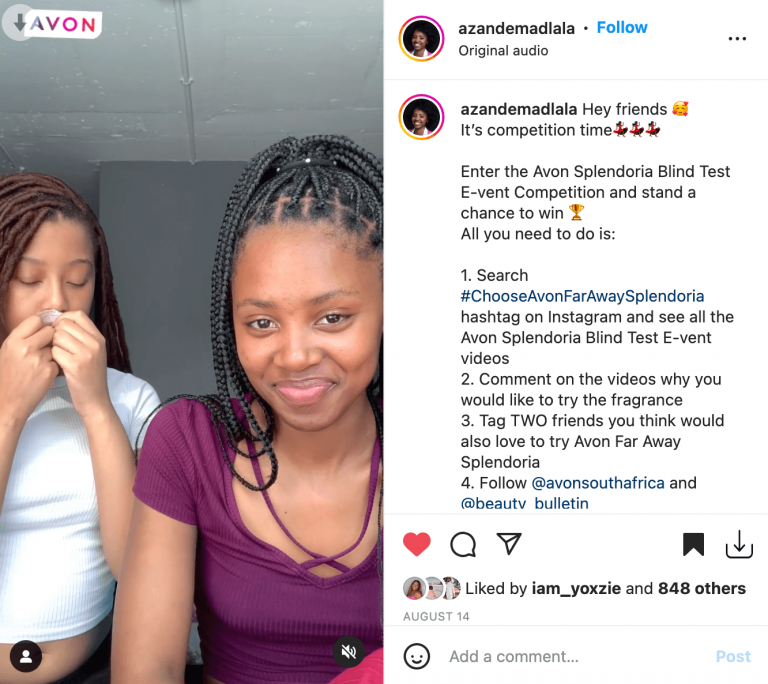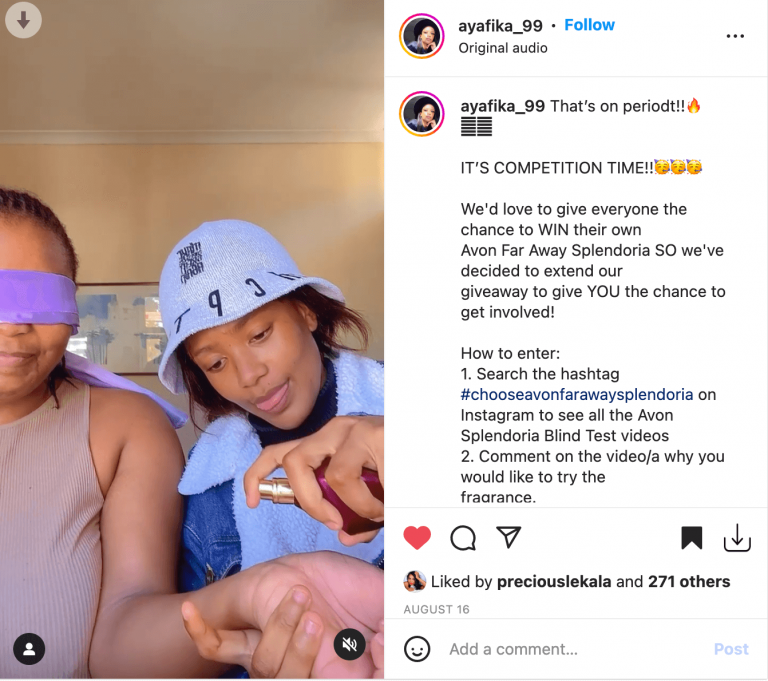 Week Four's Story
Our Luxe Fragrance Lovers left their final thoughts on Avon's website, where many shared five star reviews revealing that Avon Far Away Splendoria had become their new favourite scent, and many shared that they received countless compliments since wearing the new fragrance. Overall, Avon Far Away Splendoria was predominantly described as luxurious and impressively long-lasting.
About Avon Far Away Splendoria 
The number one fragrance brand in the world* Avon, has just launched the latest addition to their Far Away Fragrance collection, Avon Far Away Splendoria. 
With an alchemy of unique ingredients blended to create the world's 1'st white oud accord**This perfume is a one-of-a-kind scent exclusive to Avon. The only difference between Avon and luxury brands? Irresistible value. CLICK HERE.
*Avon sells the most fragrances in the world. As measured by volume or units sold in 2020. 
**Unique ingredients blended to create a one-of-a-kind scent, exclusive to Avon.