Bellissimo Tan Extender / Gradual Tan
Bellissimo Tan Extender / Gradual Tan
Hot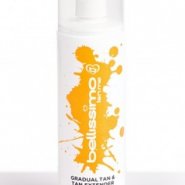 Protect and extend your sunless tan for longer. Contains high quality moisturising ingredients. This hydrating skin conditioning cream includes Sweet Almond & Jojoba oils and DHA, which will help to ensure your tan fades evenly. With a lovely melon fragrance.
User reviews
Bellissimo Tan Extender / Gradual Tan
You know how they always say never judge a book by it's cover? Well in the case of this self-tanner I really should have. The packaging is very pretty and eye-catching, but it features a bright orange splotchy image on the front. And this is exactly how I ended up looking!